Whey Protein Creamy Chocolate 2 lb (With Stevia & Erythritol)
Product Description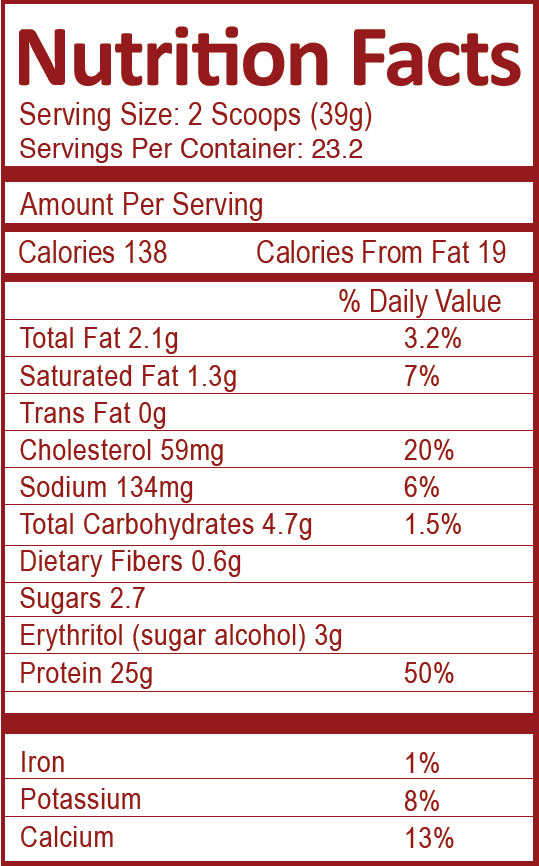 Whey Protein, With Stevia & Erythritol, Creamy Chocolate, provides an exceptional amino acid profile. It is a high quality, easily absorbable protein and is an ideal supplement for people who consume a low protein diet. This delicious tasting product may help to increase muscle mass for people who exercise. It is sweetened with naturally-derived sugar substitutes, stevia and erythritol for a lower carbohydrate/sugar content.
It contains all natural ingredients and is Cholov Yisroel.
Instructions:
Store tightly closed in cool, dry place.

Keep out of reach of children.

Use only if safety seal in tact
Directions: Mix 2 scoops (included) with 8 fl. oz (236 ml) of cold water. Stir briskly. For optimal consistency use shaker or blender. For additional flavor use skim milk instead of water.
Ingredients: Natural Whey Protein Concentrate, Erythritol, Cocoa powder, Modified Starch, Stevia, Xanthan Gum, Guar Gum, Natural Flavors, Soy Lecithin.
Allergen Information: Contains Milk, Soy (Lecithin). Individuals who have known dairy or soy allergies should not take this product.
Size: 2 lb
Find Similar Products by Category